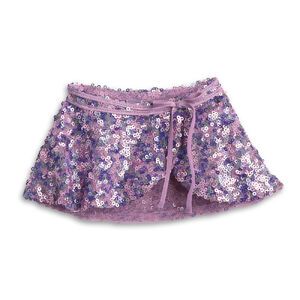 Isabelle's Dance Skirt is part of Isabelle's Collection and, like her, was retired at the end of 2014. 
Skirt
Faux-wrap sequined skirt. Fabric consists of mini sequins in varying shades of light purple sewn to a net backing, sequins are spaced close enough together to make the fabric mostly opaque. Skirt is lined with a lilac mesh fabric. False double sash detail around skirt waist made of stretchy lilac fabric, more of the same forms a bow at the left side of skirt front. Though the skirt curves up to an overlap in the front, there is no opening, the skirt simply has an elastic waist. Light purple "Isabelle" tag on back of waist.
Long Legwarmers
Ribbed-knit coral legwarmers. When worn, these can reach from the doll's ankles to her knees.
Short Legwarmers
Metallic silver ribbed-knit legwarmers. These reach from dolls' ankles up to about mid calf.
Isabelle's Legwarmers Set is part of  Isabelle's collection and, like her, was retired at the end of 2014.